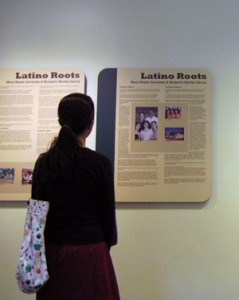 The Latino Roots in Oregon panels are on display at Springfield High School during the months of October–December 2011. These fifteen portable wooden panels contain photographs and stories about seven immigrant families, which are bilingual in Spanish and English.
The panels were on display for more than a year at the Lane County Historical Museum (January 2009 through March 2010), and were part of the exhibit "Changing Demographics: The People of Lane County." The Latino Roots panels feature a timeline of Latino presence in what is now the state of Oregon beginning in the 1700s, maps, demographic information, information about Latino youth, and the stories of seven families who came at different times to Lane County from California, Texas, Mexico, Guatemala, El Salvador, and Chile. A research team led by CLLAS director Lynn Stephen (Anthropology, Ethnic Studies) created the panels. The team included Gabriela Martínez, Patricia Cortez, Guadalupe Quinn, Mauricio Magaña, Sonia de la Cruz, Kate Williams, Lukacs Nguyen, and Magali Morales.

The Latino Roots Project is administered through the Center for Latino/a and Latin American Studies (CLLAS) and is a part of the "Americas in a Globalized World: Linking Diversity and Internationalization" big idea at the University of Oregon. Selco Community Credit Union is the community sponsor.
For further information on the project please write to cllas@uoregon.edu