Posted By admin on May 29, 2015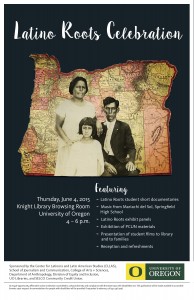 Come and join us!
Thursday, June 4, 2015
Knight Library Browsing Room
4-6pm
We will celebrate the students who have produced the projects that document the history and stories of Latinos in the state of Oregon. We equally celebrate the Latino community members who have shared their stories, which help shape the state's cultural, social, and political history.